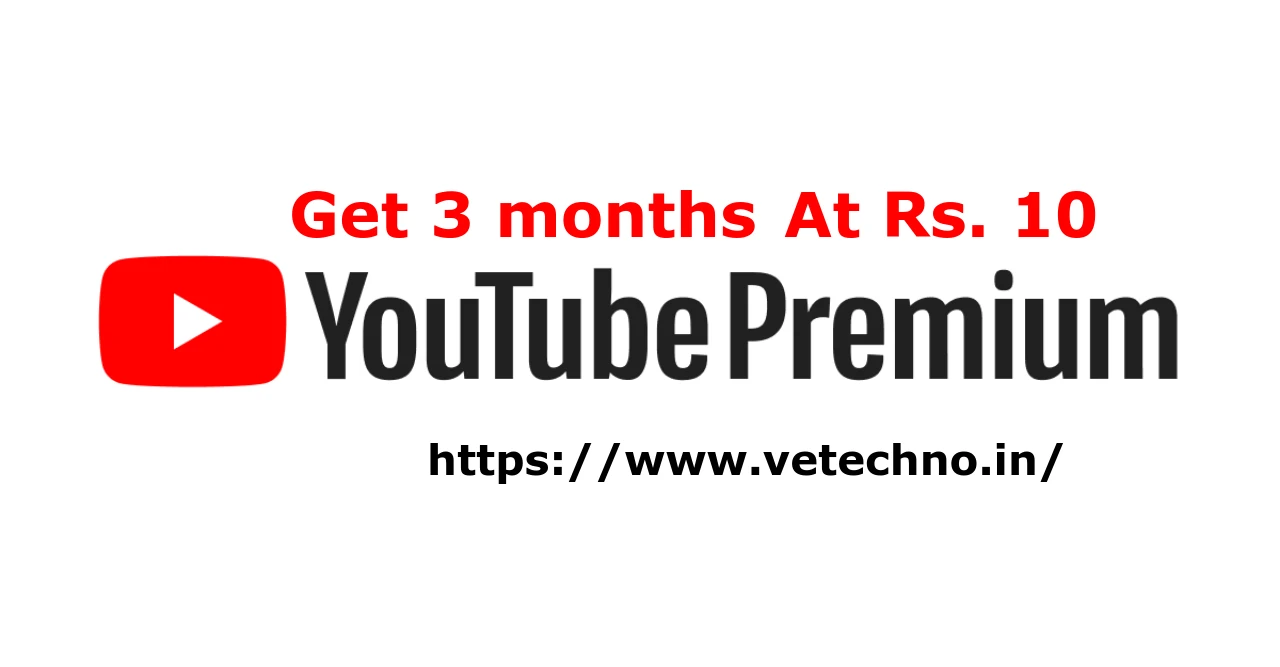 Hello YouTube viewer, I know you are searching for YouTube premium at lowest price or for free. YouTube Premium provides Ads-free & background play, downloads and YouTube music premium . In this post I will share you how to Get 3 months YouTube Premium At Rs.10
In India, the YouTube Premium plan costs Rs 129 per month, but thanks to a recent referral offer, it is now available for just Rs 10 for three months. This is a fantastic deal that should not be passed up. If you are unaware of the current YouTube Premium Rs 10 offer and wish to purchase it at that price, please follow the steps outlined below.
How to Buy YouTube Premium for Rs 10 for 3 Months?
YouTube Premium can be purchased for Rs 10 for three months under the current offer. Once the billing period is over, it will cost Rs 129 per month, so keep that in mind. You will need a non-Premium Gmail account and a Paytm account in addition to a phone/computer and an internet plan. Here's how to get a YouTube Premium account for only Rs 10.

Step 1. Click below link to get the offer at Rs. 10
Step 2. If you are eligible for the offer, you will see a text that says "You received an invitation from a friend," as shown in the screenshot above.
Step 3. If you are ineligible for the offer, create a new G-mail account and try clicking on the link again. Make certain that your billing address is located in India.
Step 4. Now, go to Paytm App and search for Google Play Recharge Code. Buy a Rs 10 recharge coupon and in a few seconds code will be sent to your E mail ID.

Step 5. Go to https://play.google.com/redeem and make sure you have logged in with the same account in which you want the premium plan.
Step 6. Enter the gift card you received from Paytm and click on Redeem.
Step 7. It will ask you to confirm whether you want to add Rs 10 to your Google Play account; click Confirm.
Step 8. Return to the YouTube Premium link from step 1 and complete your purchase by selecting Google Play Balance as your payment method.
Congratulation you have purchased the premium plan for 3 months at Rs. 10 and all the benefits will be activated on your account instantly.
What will be the benefits of getting YouTube Premium?
YouTube videos without ads.
Download videos to watch offline.
Background play.
YouTube Original series.
YouTube Music Premium subscription included.
Music on Google Home or Chrome cast Audio.
FAQ?
How do I claim my 3 month YouTube Premium?
Ans:- Follow the above Step 1. to get 3 months YouTube Premium at Rs. 10
How do I get 10rs premium on YouTube?
Ans:- Follow the above Step 1. to get 3 months YouTube Premium at Rs. 10
How much is a 3 month YouTube Premium?
Ans:- Follow the above Step 1. to get 3 months YouTube Premium at Rs. 10
How do you get 4 months on YouTube Premium?
Ans:- Follow the above Step 1. to get 3 months YouTube Premium at Rs. 10